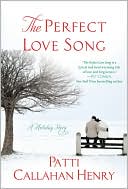 Excited to be back to book blogging, and to Waiting on Wednesday!
My "can't wait to read" selection is:
The Perfect Love Song: A Holiday Story
By Patti Callahan Henry
Publication Date: October 12, 2010
From BandN:
Jimmy Sullivan has been living on the road with his brother, Jack, and his band The Unknown Souls. Without a place to call home, Jimmy and Jack lead a nomadic life filled with music and anonymous cities. When they return to a place Jimmy never wants to see again – their old hometown of Seaboro, South Carolina – he falls in love with Charlotte Carrington.

With a soul now full of hope, Jimmy writes his first love song. When he performs it at a holiday concert to a standing ovation, the lyrics are dubbed the "Perfect Love Song," so much so that Jimmy finds himself touring alongside famous country music stars - catapulted into a world where the trappings of fame and fortune reign supreme.

All too soon, the hope that had once inspired Jimmy to write such beautiful, genuine lyrics is overshadowed by what the song can do for him and his career. In his thirst for recognition, he agrees to miss his brother's wedding in Ireland to sing at a Christmas Eve concert. And his ties with Charlotte seem to be ever so quickly fading away.

Alone on Christmas Eve in New York City, Jimmy finally sees – with a little help from some Christmas miracles – that his material gains are nothing compared to love, that he is losing all that really matters. Is it too late to find his way to Ireland, to his brother, and to love?
I'm not a big seasonal book fan, and normally any mention of Christmas miracles would have me place a book back on the shelf, but I have thoroughly enjoyed all of Callahan Henry's books.